In 2011 my goal was to read 100 books. I'm sad to say I didn't quite hit that goal. But I didn't miss it by much. I read 97 books in 2011. Before you congratulate me, you may want to look at the following graph.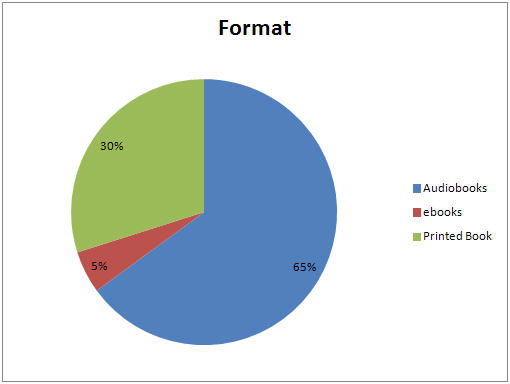 Now some may say that listening to a book is cheating and doesn't count. I'm not one of those people. I only read the unabridged copies of audiobooks. But if you take out the books I listened to and only count those I read, then that's 34 books, 5 of them on a portable device of some sort. I hope the ebook percent goes up in 2012, because I received a Kindle for Christmas and I am really looking forward to reading more on it. Its pretty cool!
So what you really want to know was what the good books were and what you should avoid. Well here it is. The best rating a book can receive is 5 stars, the worst 1 star. See the graph below for the break down.
I gave up on two books last year. They were:
A Little History of the World by Ernst Hans Josef Gombrich and The Secret by Rhonda Byrne. They received 2 stars and 1 star respectively.
I read 12 books that I thought were worthy of a 5 star rating last year. They were:
1. One Second After by William R. Forstchen
2. Unbroken: A World War II Story of Survival, Resilience, and Redemption by Laura Hillenbrand
3. Bossypants by Tina Fey
4. The Omnivore's Dilemma by Michael Pollan
5. The Blind Side: Evolution of a Game by Michael Lewis
6. The Maltese Falcon by Dashiell Hammett
7. Earth Abides by George R. Stewart
8. The Girl Who Kicked the Hornet's Nest (Millennium, #3) by Stieg Larsson
9. Kindred by Octavia E. Butler
10. Star Wars, Episode V – The Empire Strikes Back (The Original Radio Drama) by Edward Humes
11. ProBlogger: Secrets for Blogging Your Way to a Six-Figure Income by Darren Rowse
12. The Story of Classical Music by Darren Henley
If you would like to see all the books I read last year you can see me goodreads page here: