Events
This month we went to Disneyland again. Thanks to Samantha's cool aunt Lauren, I think we have gone the last 6 months in a row. We had a great time again this time. The weather was looking pretty bad, but it didn't rain. I think the fact that it didn't look that good and that it was a Thursday helped keep people out of the park. This meant we had more time to have fun, because we didn't have to fight the crowds. This visit also marked the first time Samantha had been to Ariel's Grotto. At this restaurant the cast members are dressed as 5 princesses (Ariel, Snow White, Bell, Cinderella, and Jasmine). Samantha was very shy and didn't like being close to the princesses, but when they walked away from the table, she acted excited to see them.
Christmas was really special for us this year. Because we had three of them! Our first Christmas was early at my parent's house in Carlsbad. They of course spoiled us all with presents, good food, and great company. We all had a blast. Our next Christmas was on Christmas Eve at Michelle's parents house. Again, we were regaled with presents, great food and great company. Lastly we had our own little family Christmas on Christmas day. Samantha had a great time and must think that Christmas last a month now.
Immediately after our Christmas we started packing for our vacation to Arizona. We had a good drive there and back. It is about 5 and a half hours with stops for eating. We made much better time going home, because we stopped less. Samantha was a little angel for the drives. Once there were greeted by my extended family. Some of them stayed at my aunt Lee's house and the overflow, which included Samantha, Michelle, myself, Rick, Barbie, Autumn and Trevor, stayed at a timeshare Lee and Ron have that is also in Scottsdale. It was a beautiful place, but didn't really compare to Lee and Ron's beautiful Scottsdale home. We had a wonderful vacation there and attended my aunt Barbie's wedding to Rick, while in Scottsdale.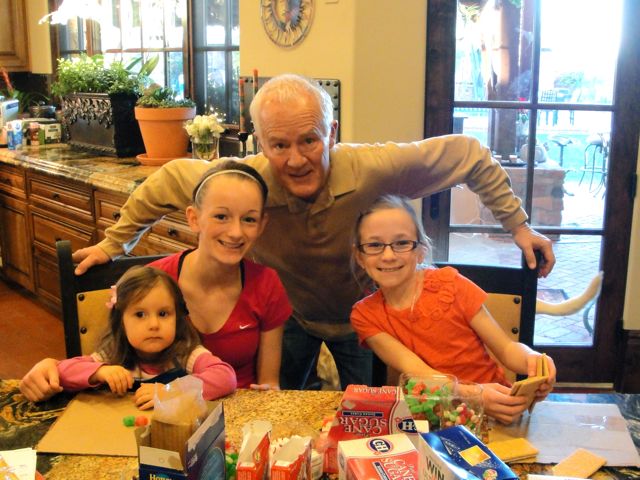 Celebrations
Bill Kita's birthday 12/16
Bill Watts' birthday 12/21
Tim Thompson 12/22
Barbie and Rick's Wedding 12/27
Robyn Plouse 12/18
James Higson 12/31
Cole Lesile 12/25
Movies
The Sorcerer's Apprentice – 3.5/5 stars.  Not bad.  Not great.
Harry Potter and the Deathly Hallows – 4.5/5 stars.  Great movie, only disappointment is having to wait for the second part.
Robin Hood – 4/5 stars.  Good action flick.
Grown Ups – 3/5 stars.  Funny.
Twilight: Eclipse – 3/5 stars.  Okay.  Just like the others, read the books, they are much, much better.
Despicable Me – 3/5 stars.  Excellent to see in 3D.  Kids movie that doesn't appeal to adults as much as it possible could.
The Legend of the Guardians: The Owls of the Ga'Hoole – 1/5 stars.  Terrible.  Boring.
Inception – 4.5/5 stars.  Excellent concept.  Would like to see more like this.
Books
The Lightning Thief (Percy Jackson and the Olympians #1) by Rick Riordan – 4/5 stars.  Great book.  Looking forward to reading more.
The Picture of Dorian Gray by Oscar Wilde – 3/5 stars.  Being generous with this one.  Great idea, but the book totally misses taking advantage of it.
The Tristan Betrayal by Robert Ludlum – 3/5 stars.  Good spy novel.
Deception Point by Dan Brown – 4/5 stars. Dan Brown does it again  and again.  He is just a great author.
The Essential Lewis and Clark by Meriwether Lewis, William Clark – 3/5 stars.  Dry, reads like a diary, because it is.  Wish it would have read like a novel.
Down and Out in the Magic Kingdom by Cory Doctorow – 4/5 stars.  Excellent Sci-Fi.  More I think about it, this actually deserves 5 stars.  This book is also public domain.