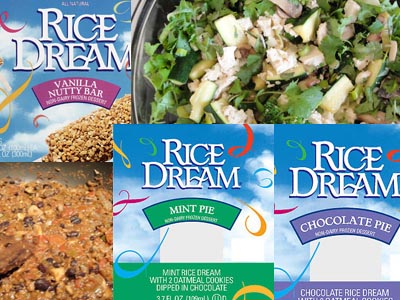 Tonight I'm going to review a few products from Rice Dream and some recipes I found.  In The Kind Diet by Alicia Silverstone she raves about her weakness, mint ice cream pies by Rice Dream.  So last time I was at Mother's Market I picked one up and a chocolate one.  While there I also saw the "Nutty Bar" that Rice Dream also makes, so I got that as well.
The Nutty Bar was pretty nasty.  The only thing that tasted right were the peanuts on the outside.  The chocolate didn't taste like chocolate instead it has a slightly metallic taste to it.  The ice cream was ok, but the horrible chocolate outside tainted the ice cream flavor.
The image above is from fitsugar, they had this great picture of the outside of the pie and the inside.  The cookie is the best part of this thing.  The chocolate is far from good, but the ice cream and especially the cookie make up for it.  Not bad, but I don't think I will buy these again, I'm going to try to find another frozen treat that is better.  Any suggestions?  Please put them in the comments.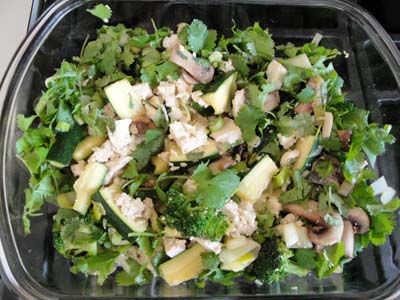 My mother-in-law made a recipe from The Kind Diet last week called Scrambled Tofu (page 283).  While it is in the breakfast section of the book, I wouldn't relate this one to breakfast myself.  It would be a great summer time meal.  It is very fresh and light.  I will be making this again!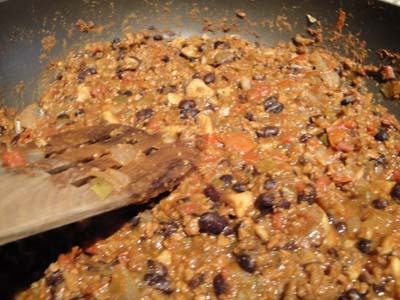 This one I made tonight.  It was very, very good.  Doesn't look vegan does it?  It doesn't taste vegan either!  I ate mine with crackers scooping up each bite!  And I even had seconds.  I got the recipe from the Ellen show.  One week day I was playing with Samantha on the ground in front of the tv and saw this, so I turned up the volume and made a mental note to search the Ellen website for it.  It was not hard to make at all and turned out great.  Can't wait to make it again.  It was perfect for the rainy weather we are having this weekend!  If anyone knows where I can find red palm oil, I would love to try to make the nacho sauce that is on the same page of the Ellen site.  Please leave a note in the comments for me if you know where to find the stuff.